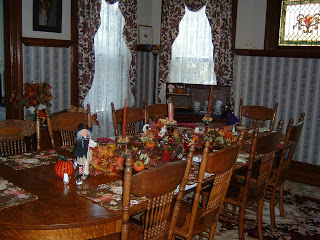 Halloween season is here! I've been busy at the inn baking pumpkin bread, putting out candy, and putting up Halloween decorations (see the picture to the right).
But when I'm not hauling pumpkins and bags of candy around the inn, I'm going to be checking out some of the Halloween attractions in and around Sussex County. Here are a couple of them:
Hay Ride of Horrors, Haunted Mansion, and Corn Maze at Corrado's Farm
http://hayrideofhorrors.com/ab
outme.htm.
The 2010 haunting season is here!
We will be open on the following dates for 2010:
Friday – 10/15 through Sunday – 10/17
Thursday – 10/21 through Sunday – 10/24
Thursday – 10/28 through Sunday – 10/31
I went on the Corrado's Farm Hayride last year. Despite the reputation hayrides have for being corny, this one was actually scary. I jumped out of my seat more than once. The people who work at the hayride have done this for years and seemed to have honed their ability to scare the bejesus out of you. The costumes, makeup, and sets were all very well done. Highly recommended.
HomeGrownRadio Sixth Anniversary Harvest Fest
Date: 10/30/10
Venue: Fountain House
Time: 1:00 PM – 1:00 AM
Address:
439 Route 94
Fredon, NJ 07860
Outdoor concert by Citizens Band Radio, Stoney River Boys, John Byrne, indoor concert with Mystery Train, Yarn, Susie Q and special guests; must be 21, sponsored by Hoboken Eddie's
Ticket Price: $10
I've listened to Citizens Band Radio and the Stoney River, and thought they both had a good folksy, Creedence Clearwater-esque sound. $10 is a good deal for a 12 hour concert (I'm not sure I'd stay that long, though).
Harvest Moon Hayride and Night Time Corn Maze
Country music DJ, unlimited cider, toasty campfire
Alstede Farms, 16.95/person, also pick pumpkins by flashlight
Chester, NJ
I've heard good things about this hayride but know little about it. I have had Alstede Farms' cider before, though, and can say it's fantastic.
"Last Fling Pumpkin Sling"
Dates: October 30, 2010 – October 31, 2010
Location: Hensler Farms
Belvidere, NJ
Warren County
Description: Come and join us. Build a catapult to sling some pumpkins or come to watch the competition."
I haven't been to this one, but will be checking it out. Destroying pumpkins seems like a waste of food, but this seems like it'll be fun anyway.
October 30, 7pm
Without A Cue presents a performance of
"Addams Family Murder Mystery"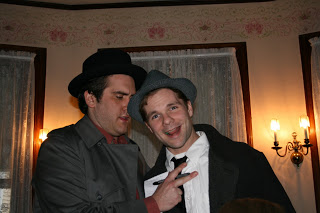 At Charlie Brown's Steakhouse – Hackettstown, NJ
Ticket price : $45.00
For reservations, please call 908-979-0446 – My personal favorite. We've had "Murder Mystery Dinners" at the Whistling Swan Inn before, and they've always been entertaining. Attendees are given characters to play (one of which is "the murderer") and each tries (or in the case of the murderer, pretends to try) to figure out who committed the murder. Trained actors play the detectives. I'm not sure how the murder mysteries at Charlie Brown's are performed, but when we held them at the inn, people knew what characters they'd be playing beforehand, and they showed up wearing costumes. The costumes were generally pretty amusing. One of the attendees showed up wearing a sailor's uniform and another dressed up like a Victorian-era aristocrat. Though $45 might seem pricey, these events are well worth the money.
Liz Armstrong, Innkeeper