Gift giving has always created angst for me. I like to choose something unique and personal – the perfect item that cannot be obtained just anywhere. That's hard to do when time is limited, however this weekend, after the last breakfast dish is put away at the Whistling Swan Inn, I'll be making a beeline to Municipal Field in historic Chester, NJ. Touted as one of the top 60 craft shows in the country, the Spring Craft Show will feature more than 150 regional artists selling a wide variety of hand-made items, including traditional crafts, fine art, furniture and country crafts.
Tom and I will be saving some time to stroll through the town, one of our favorite places since we were married 30 years ago. Chester has always been somewhat of a quirky town filled with splendid antique shops, coffee bars and some of the best ice cream in New Jersey.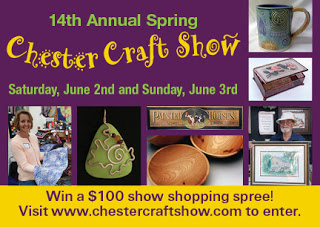 Rain or shine, the show will be held from 10:00 am to 5:00 pm, and I'll be there, Christmas list in hand.
… and so the adventures continue… join us.


Ros
Ros Bruno
Innkeeper
The Whistling Swan Inn
110 Main Street
Stanhope, NJ 07874
973-347-6369
www.whistlingswaninn.com
Check availability