Since purchasing the Whistling Swan Inn, our bed and breakfast in Stanhope, NJ, nearly 10 months ago, we have been busy putting our own spin on the decor. We've painted, remodeled two bathrooms, bought some magnificent new curtains and bedding at Country Curtains in Chester, and moved around furniture.
In light of all the changes I thought it was time for some updated photos on the web site. Of course I called Christian Giannelli of the eponymous Christian Giannelli Photography. Christian is one of the photographers recommended by PAII (Professional Association of Innkeepers International), so he really knows how to showcase inns in their very best light.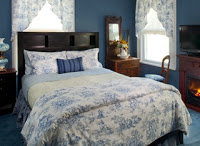 Morris Canal, newly decorated in
blue French country toile
We agreed on the photos to be taken and set a date for the last week of July. In order to maximize his time at the inn, I had ready a wide array of suggested props.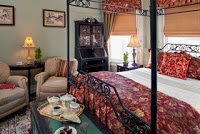 Luxurious new bedding and
curtains in the Harmony Suite
channel the Orient
What a day! Little did a realize what a big deal this was. Christian arrived early in the morning with his dad, Andy, who in addition to owning a distinctive furniture shop in Lambertville, NJ, doubles as Christian's stylist. While Christian concentrated on getting the best shots, Andy arranged flowers, positioned champagne flutes and chocolates, and, as a bonus, gave me some expert decorating advice. Andy is a man of impeccable taste, so all his suggestions have been or will be implemented at the inn.
Our recently refurbished veranda
After having our own photo taken, Tom and I bid these two lovely gentleman goodbye at 8:30 pm. Twelve hours to take photos…Yikes. It was a tiring, but exhilarating day and well worth everything considering the spectacular results.
Look for some updated photos of the inn on the web site soon.
Ros
Ros Bruno
Innkeeper
The Whistling Swan Inn
110 Main St.
Stanhope, NJ 07874
973-347-6369
www.whistlingswaninn.com
Check availability