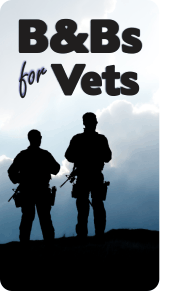 Vets stay free on
Sunday, November  11, 2012
As an American, I value the fundamental freedoms of this country afforded to me by the Bill of Rights. Anyone who knows me will tell you that the freedom I enjoy and exercise the most is the right to "free speech". The preservation of these freedoms comes with great personal sacrifice by the men and women who serve in the armed forces.
To say "thank you", the Whistling Swan Inn, located in Stanhope, NJ, will be participating in the fourth annual "B&B for Vets" program.  We have set aside three rooms (Morris Canal, Lenape and Tranquility) in the inn so a vet and his/her guest can stay free on Veteran's Day, Sunday, November 11, 2012.
Begun in 2009 by a West Virginia innkeeper, the program has really taken hold, and it is expected that this year's participation will reach 1,000 inns across the U.S. and Canada. This is a major component to the Professional Association of Innkeepers International's "Better Way to Stay" campaign, and is fully endorsed by B&B industry partners such as Select Registry and Bed and Breakfast.com.
Reservations are subject to availability and can be made by calling the Whistling Swan Inn directly. A valid military or Veteran's Administration ID is required for each reservation and must be presented at check-in.
Ros
Ros Bruno
Innkeeper
The Whistling Swan Inn
110 Main St.
Stanhope, NJ 07874
973-347-6369
www.whistlingswaninn.com
Check availability