Being a history buff takes many forms. Some like to tour the scenes of great battles while others prefer poring over ancient documents. I personally like to see the final resting places of the rich, famous, infamous and notorious. My hobby has taken me less than five miles from my bed and breakfast, the Whistling Swan Inn and as far away as Paris, France. At first I was hesitant to share my fascination with graveyards, but I've learned this is an interest that transcends age groups, demographics and socioeconomic status. The common denominator is a desire to learn about and understand the people who shaped our history as a country and as a society.
On Sunday, October 28th, from 5:00-6:00 pm, there will be a tour at St. Peter's Episcopal Church graveyard in Morristown, NJ. Explore the bones and decorative stones of historical figures such as Alfred Vail, the real inventor of the telegraph, members of the Ford family, whose mansion served as George Washington's headquarters during the Revolution and George Macculloch, a wealthy exporter, who created the Morris Canal, which connected the Delaware and Hudson Rivers.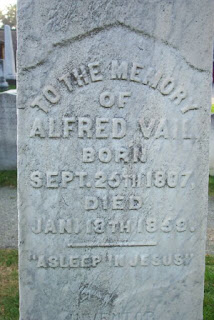 The monument of Alfred Vail,
whose family founded American
Telephone & Telegraph,
known today as AT&T.
Because space is limited, advance reservations are required. For reservations call: 973-631-5151, and mail your check ($12.00/person) to Morris County Tourism Bureau, 6 Court St., Morristown, NJ 07960.
This Halloween, take a walk on the wild side as you check out the resting places of those who have gone to the other side.
Ros
Ros Bruno
Innkeeper
The Whistling Swan Inn
110 Main Street
Stanhope, NJ 07874
973-347-6369
www.whistlingswaninn.com
Check our availability