In keeping with the "Better Way to Stay" campaign of our professional organization, PAII (Professional Association of Innkeepers International), I am continually searching for the finest, freshest ingredients for my room packages. Nothing against ShopRite, but I prefer to patronize local specialty shops. It helps local business, and the quality is far superior.
A mere 10 miles from the Whistling Swan Inn, is the Valley Shepherd Creamery, where I am now getting all my cheese for my wine and cheese basket. Nestled in the New Jersey countryside, Valley Shepherd is a working creamery where where you can watch as they milk the sheep and make farm-fresh dairy products. From April through November they are also open for weekend guided tours.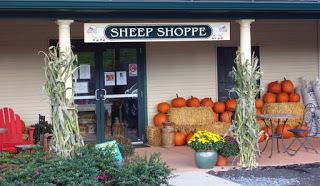 The Sheep Shoppe…a cheese lover's mecca
I could barely contain myself in The Sheep Shoppe. Not only can you taste a wide variety of comestibles, such as kalamata olive oil, balsamic vinegar and, of course, cheese, they also feature one-of-a-kind sheep and farm-themed gifts, furnishing, toys and artwork. Allison helped me select an eclectic sampling of cheeses and was extremely knowledgeable regarding their differences. Mmm…good.
Why not plan a fall getaway soon to the Whistling Swan Inn and plan to sample some of these delicacies yourself?
Valley Shepherd Creamery
50 Fairmount Rd.
Long Valley, NJ 07853
908-876-3200
Open Thursday-Saturday 10 am to 5 pm; Sunday 11 am to 5 pm
Weekend guided tours at 1 pm and 4 pm
Eating is one of my favorite activities…join me.


Ros
Ros Bruno
Innkeeper
The Whistling Swan Inn
110 Main Street
Stanhope, NJ 07874
973-347-6369
www.whistlingswaninn.com
Check our availability