Now that His Royal Highness, Prince George of Cambridge, has safely arrived, I can turn my thoughts to events more local to the Whistling Swan Inn, my bed and breakfast in Sussex County, New Jersey.
The New Jersey State Fair/Sussex County Farm and Horse Show will be held from August 2-11, 2013 at the Sussex County Fairgrounds. Considering that prices are always increasing, it's refreshing to know that admission to the fair is the same as 2012.
Adult admission price is $12 ($9 for seniors 60+; proof of age required). By doing a little advanced planning, you can save some money. Advance ticket sales until August 1st is $10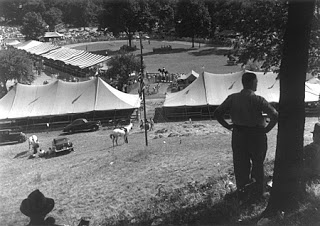 Old fair photo
Circa 1948
Sussex County Fairgrounds
37 Plains Rd.
Augusta, NJ 07822
According to the web site dedicated to fair activities, its mission (with my editorial comments in parentheses) is:
To showcase New Jersey's agriculture (we ARE, after all, the Garden State)
Provide safe, family-friendly entertainment (safe and friendly are always optimal)
Present educational activities (learning something new keeps the brain cells flexible)
Promote youth development (always a good thing)
Give financial support to charitable non-profit agencies ($$$ helps)
Fairgrounds are conveniently located approximately 30 minutes from the Inn. Click for highlights of this year's event.
This says it all, friends. The NJ State Fair is THE place to experience country living at its best, and something I look forward to every summer. Maybe I'll see you there.
Ros Bruno
Innkeeper
The Whistling Swan Inn
110 Main St.
Stanhope, NJ 07874
973-347-6369
www.whistlingswaninn.com
Check availability
Follow us on Pinterest