Every two years the Women's Association of Morristown (NJ) Medical Center conducts its signature fundraiser, "Mansion in May", which raises thousands of dollars to support the hospital's programs. The group selects a country estate in either Morris or Somerset County and invites renowned area interior and landscape designers to turn it into a spectacular showcase, which attracts thousands of visitors.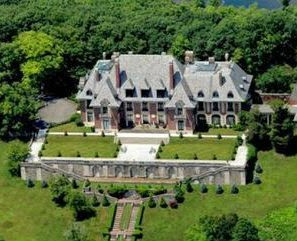 This year's mansion, located in the tony burg of Peapack-Gladstone, is Blairsden, the 500-acre, 62,000 square foot mansion built by New York financier, C Ledyard Blair. Designed by the firm of Carrere and Hastings who also built the New York Public Library and the Frick Museum, the house is one of the best examples of Beaux-Arts architecture in the United States.
A mile-long driveway leads up to the house. The estate also features twenty acres of formally landscaped gardens, tennis courts, plunge pools and pavilions. …and the Newport glitterati thought THEY had the monopoly on luxurious living!
The tour is open from May 1st through May 31st. Tickets can be purchased either online or at the door. Advance tickets cost $40 per person, but after April 30th, the price goes up to $50.
Offsite parking is available at:
USET Fowler Road Field
576 Fowler Rd.
Gladstone, NJ 07934
A free shuttle will take you from the parking lot to the mansion. There is no parking at the estate, and it cannot be accessed on foot.
Insider's tip:
Regardless of how luxurious the fabrics are or how glossy the furnishings, do not touch anything. The tour is conducted by volunteer docents, and they take their job very seriously. Two years ago when I toured Glynallyn, I got reprimanded three times in 10 minutes.
Ros
Ros Bruno
Innkeeper
The Whistling Swan Inn
110 Main St.
Stanhope, NJ 07874
973-347-6369
www.whistlingswaninn.com
Check availability
Follow us on Pinterest
Follow us on Twitter