Finally summer is here. The days are longer, the flowers are in bloom and I'm wearing short sleeves at last. Growing up in rural central New Jersey, summertime meant kicking up our heels after a long school year. It meant biking around the neighborhood with friends, learning to dive backward and waiting with eager anticipation for the ice cream truck.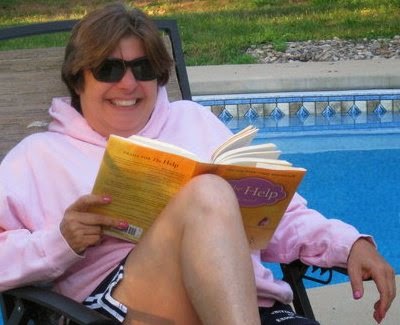 Sweet days of summer, doing what I love best
As a voracious reader then, and now, one of my fondest memories was hunkering down in the hammock under the old oak tree with a good book. Remember, this was before central air conditioning. In fact, we had no air conditioning at all, so midday we ran for the nearest shade and moved as little as possible.
I still plan my summer reading each year. Here are some of my favorites, old and new, in no particular order of preference – just books that have made a lasting impact.
Bonfire of the Vanities – Tom Wolfe, 1987
Wolfe's first novel captures the essence of Wall Street greed and the excesses that defined New York City in the 1980's.
Making Time: A Life Beyond 'Cheaper by the Dozen' – Jane Lancaster – 2004. This is a biography of Lillian Gilbreth, the founder of ergonomics. Most of us recognize her as the mother in Cheaper by the Dozen, however she was a world-renowned engineer and psychologist in her own right who developed modern conveniences such as the foot pedal garbage can and efficiency designed kitchen, all while raising 11 children.


The Help – Kathryn Stockett – 2009
Set in the Civil Rights South, The Help examines the relationship between a privileged southern belle and two African American maids, and her quest to write an expose about racism and the disparities between the haves and have nots.
The Bucolic Plague – Josh Kilmer-Purcell – 2010
Written by one half of the Fabulous Beekman Boys, this memoir recounts how the author and his partner purchased and restored an historic mansion and goat farm in Sharon Springs, NY. Over the last five years, they've launched a lifestyle brand that has revitalized the town.
A Hundred Summers – Beatriz Williams – 2014
This is a story of friendship, love and betrayal among Rhode Island's glitterati in the 30's. It's good beach reading.
These are some of my favorites. What's on your bookshelf this summer?
Ros
Ros Bruno
Innkeeper
The Whistling Swan Inn
110 Main St.
Stanhope, NJ 07874
973-347-6369
www.whistlingswaninn.com
Check availability
Like us on Facebook
Follow us on Pinterest