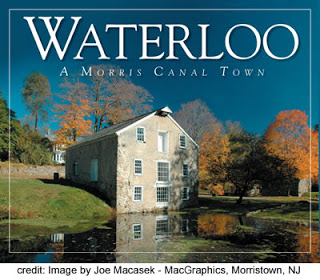 Our beloved idyllic fall weather is just around the corner. You can't help but be drawn to the crisp air and infamous foliage that saturates the landscape around Whistling Swan Inn. So we've chosen 3 top fall foliage spots near Stanhope, NJ, where you can immerse yourself in autumn's aura.
Waterloo Village: Tucked within the rolling terrain of Allamuchy Mountain State Park is this restored 19th-century historical sight seemingly frozen in time. Enjoy the assortment of unique shops, tours that take you through historic homes and working mills, all while surrounded by towering trees aglow with autumn colors. Located only 3.8 miles from the Whistling Swan Inn, it's easy to understand why Waterloo Village makes it onto our top three fall foliage list.
Allamuchy State Park: There's nothing quite as calming as hiking to the soft music of bubbling brooks and a breeze blowing through the trees. You too can be engulfed by such a scene at this gorgeous park found along the Musconetcong River. Enjoy hiking, biking, canoeing, and picnicking in the autumn air. With 9,092 acres of wildlife to explore and miles of terrific trails to trek, we couldn't help but recommend this place to all nature lovers.
Riamede Farm: Nothing says 'fall' quite like rows of apple orchards ready for harvesting. With 34 vibrant varieties of apples, over 65 acres of fresh fruits and vegetables, and a successful public harvesting that's been ongoing for nearly a half-century, Riamede Farm is a must-see! Conveniently located only 9 miles from Whistling Swan Inn, you can take a breathtaking drive through New Jersey's rolling terrain, soaking in the sunset-hued leaves falling amongst the country roads.
Nothing stands in your way from booking a much-needed staycation at our vintage bed and breakfast with top-tier guest rooms. After a long day of indulging your senses in the sensational season that is fall, you will find a haven of comfort and safety at our welcoming abode.