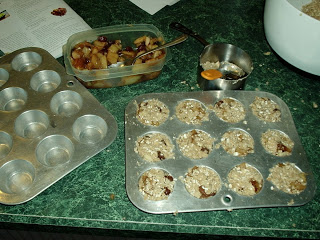 I came across this recipe when I was looking for new dishes to make for breakfast. The cakes taste like apple crisps, but are the size of mini muffins. At first they take a while to make, but once you get used to the method, you can make them fairly quickly. You can bake a few of them at a time or make an entire dish. The cakes freeze very well.
In the first picture you'll see what the shells look like. The easiest way to bake them is to fill up the mini muffin pan to the top with the crumb mixture and then use your thumb or a spoon to press the mixture against the sides to form the shell. Then you add one tablespoon of the apple mixture. After that, cover the mixture with more crumbs.
Bake the cakes until they turn brown. When you remove the pan from the oven, let it cool down completely before removing the cakes. Otherwise, they will fall apart and make a mess (I did that on the first pan I made!).
If you are having guests over for the holidays these cakes will be a special treat!
Apple Thimble Tea Cakes Recipe
3 large apples, peeled, cored, chopped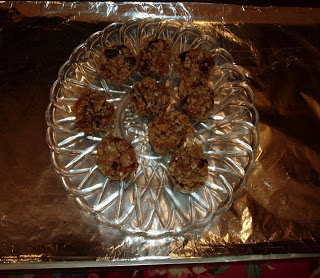 1/2 cup currants or raisins
1/4 cup water
2 Tbs sugar
1/2 tsp. ground cinnamon or apple pie spice
2 cups all-purpose flour
2 cups rolled oats
1 1/2 cups brown sugar
1 tsp. ground cinnamon
1/2 tsp. ground nutmeg or mace
1 1/2 cups butter
Preheat oven to 350° F. Grease 4 12-cup mini-muffin pans.
Peel, core and chop apples. Mix apples, currants, water, sugar, and 1/2 teaspoon of cinnamon together in a saucepan, and bring to a simmer over medium-low heat, stirring occasionally. Simmer until apples are partially cooked, about 5 minutes; set aside.
Combine flour, oats, brown sugar, 1 teaspoon of cinnamon, and nutmeg in a large bowl; cut the butter into the flour mixture until the mixture looks like coarse crumbs. Set aside 1 cup crust mixture.
Place a heaping tablespoon of the crust mixture into a mini muffin cup, and press it into the cup so that it covers the bottom and pushes up the sides of the cup.
Make sure the crust completely lines the muffin cup to the top. Place about 2 teaspoons of apple filling in the crust. Sprinkle about 1 teaspoon of the reserved crust mixture on the apple filling.
Bake in preheated oven until golden brown – about15 to 20 minutes.
Servings: 48