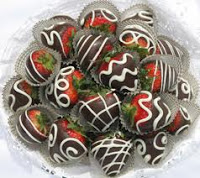 I'm a sucker for romance. Since taking over the
Whistling Swan Inn
this past November, I've congratulated five young women who came down to breakfast sporting diamond engagement rings. The moment they walked into the dining room, their excitement was palpable and contagious.
February, of course, is traditionally the month designated on the calendar for romance, but at the Whistling Swan Inn, guests can book a
romantic getaway
all year long. Our romantic package includes:
Champagne or sparkling cider, iced upon arrival
Bouquet of roses
Chocolate covered strawberries, lovingly hand-dipped by myself
$50 gift card to one of our Stanhope, NJ area restaurants
Cost: $99 added to the room rate
Like I said, I'm a sucker for romance.
… and so the adventures continue… join us
Ros
Ros Bruno
Innkeeper
The Whistling Swan Inn
110 Main St.
Stanhope, NJ 07874
973-347-6369