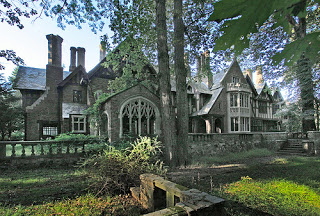 Well, it's official…I've just purchased my ticket for the month-long "Mansion in May" event. Since 1974, the Women's Association of Morristown (NJ) Medical Center has transformed some of Morris and Somerset County, New Jersey's most elegant estates into spectacular showcases, which attract thousands of visitors and raise millions of dollars in funds to support the hospital's programs.
Historic Morristown is only 30 minutes away from The Whistling Swan Inn, a New Jersey bed and breakfast located in the Skylands region of the state. This year's mansion is a 32,000 square foot English Tudor castle known as Glynallyn. Built in 1917, the it contains more than forty rooms, 575 stained glass windows, sixteen chimney stacks, terraced gardens, a dungeon and a moat. Why an early 20th century industralist would need a moat in Morristown, NJ, I cannot imagine, but hey, who am I to judge?
Over 60 design and landscape firms have been selected to return Glynallyn to its former grandeur. Tickets can be purchased either online or at specific locations. Tickets are $30 per person if purchased at the door after May 1st, however advanced tickets are $25 per person. The event also features a unique shopping and dining experience right on the grounds.
So next week, camera in hand like a tourist instead of the Jersey girl I am, I'll be there – rain or shine, warm or cold, seeing how the other half lived.
… and so the adventures continue … join us


Ros
Ros Bruno
Innkeeper
The Whistling Swan Inn
110 Main Street
Stanhope, NJ 07874
973-347-6369
www.whistlingswaninn.com