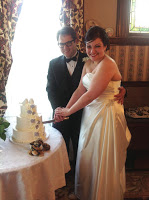 Heather and Chris observe a
timeless tradition
My friend, Heather, got married this weekend. She and her mom, Marge, have been my book club pals for nearly 10 years, so when she got engaged to Chris last winter and chose the Whistling Swan Inn as the venue for her intimate, elegant New Jersey wedding, I was anxious to make it a perfect day for all of them.
Weddings are tricky to execute, because no detail, however small, can be overlooked. Fortunately for me, Heather was very clear about how she wanted her special day, and it took no more than a few meetings and emails to set the plans in motion. Armed with my lists, I was assisted by a competent team: husband, Tom, daughter, Nikki and friends, Joanne and Heidi. Together, we ensured that the wedding went off without a hitch.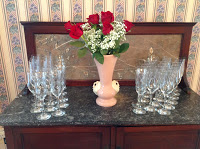 Almost ready for the toast
Heather's cocktail reception for 35 was held in the double parlor, and guests also had the opportunity to relax on the newly refurbished veranda. The weather more than cooperated, so there were some splendid family photos taken in the freshly landscaped Victorian garden.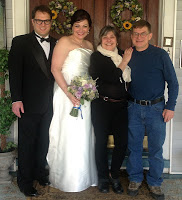 The end of a happy day
To say Heather was a beautiful bride would be an understatement…she was, in fact, exquisite. Maybe it was her youth, or the fact that she is a striking young woman …or maybe it was the unbridled joy that comes with finding true love.
My friend, Heather, got married this weekend to a great guy, and Tom and I wish them many years of happiness.
… and so the adventures continue … join us.


Ros
Ros Bruno
Innkeeper
The Whistling Swan Inn
110 Main Street
Stanhope, NJ 07874
973-347-6369
www.whistlingswaninn.com
Check availability https://www.whistlingswaninn.com/ik-resv-redirect.htm