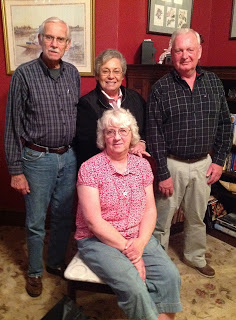 Stanhope Chamber of Commerce
meet at the
Whistling Swan Inn
Paula Zeliff-Murphy
Rich Kuncken
Rosemarie Maio
Jack Leffingwell
Since March, the Stanhope, NJ Chamber of Commerce has been meeting monthly at the Whistling Swan Inn to plan its 17th annual Stanhope Spring Weekend. The three-day extravaganza will be held June 8, 9, and 10, 2012, and will kick off on Friday with a genuine pig roast – yes, outdoors, on a spit and everything – at Shakey Jakes, located on Route 183. Due to the overwhelming popularity of this event, admission is limited to 90, and tickets are going fast. Admission is $30 per person, with all proceeds donated to the Borough's fire department and ambulance squad.
For weeks now, I've been hauling out my unused stuff in preparation for the town-wide garage sale on Saturday. As they say, "one person's trash is another's treasure, so in between serving breakfast, checking in guests and baking cookies, I'll be trolling the neighborhood searching for bargains. Some of the items I'll be parting with are an antique hat stand, a pair of upholstered chairs and some knick-knacks.
Capping the celebration on Sunday, June 10th, is the Spring Festival, which is a blast for the whole family. Main Street will be blocked off to accommodate a variety of vendors selling food and handcrafted items. The kids will enjoy face painting, bounce rides and tons of giveaways. Musical entertainment will also be featured.
A silent auction is one of my all-time favorite activities, and even though I never win anything – ever – I'll be bidding with the best of them on some of the services and merchandise donated by more than one hundred individuals and businesses. Prizes will include: sports memorabilia, theater packages, weekend getaways, gift certificates to local eateries and baskets of assorted goodies. Sponsored by the Town With a Heart Fund, the auction is always a highlight of the festival. Profits from the annual fundraiser are distributed to area individuals or families who are in need of emergency financial assistance due to extraordinary circumstances.
So mark your calendars and come out to the Stanhope Spring Weekend. Don't forget your sunscreen.
… and so the adventures continue … join us.


Ros
Ros Bruno
Innkeeper
110 Main Street
Stanhope, NJ 07874
973-347-6369
The Whistling Swan Inn

Check availability https://www.whistlingswaninn.com/ik-resv-redirect.htm