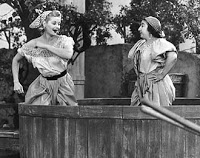 Lucille Ball at her best
I am a devoted fan of "I Love Lucy". As a kid, I arranged my day around the small-screen antics of that wacky redhead. The show was so brilliantly crafted that it would be hard to choose my favorite episode, however one of the most memorable was when Lucy decided to try grape stomping in Italy.
Well, one of my favorite local places, Four Sisters Winery, is offering "Barefoot Grape Stomping" a la Lucy, on Saturday, July 21, 2012 from 6:00-9:00 pm. Wowee … this is the foot massage of a lifetime!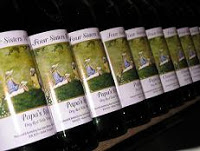 Four Sisters likewise at its best
Only a 25-minute drive from the Whistling Swan Inn, Four Sisters Winery is located in Warren County on a 250-acre farm owned by the Matarazzo family. After your adventure, you'll want to sink into one of our Jacuzzi tubs. Not only will it be relaxing, the purple stain will wash off your feet…
Reservations are required, so call 973-475-3671 for tickets. Tickets are $57.50 per person (including tax and gratuity) and include:
Buffet-style dinner
Formal wine tasting
Educational wine cellar
tour
Oh, yes, and grape stomping in your bare feet.
Maybe I'll see you there...
Ros
Ros Bruno
Innkeeper
The Whistling Swan Inn
110 Main Street
Stanhope, NJ 07874
973-347-6369
www.whistlingswaninn.com
Check availability