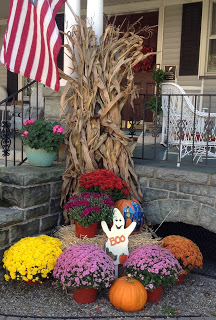 Mums courtesy of Lockwood Farms;
design by Ros and Alice
I've always had an affinity for the changing seasons. Autumn has always meant "back to school", but now at the Whistling Swan Inn, my bed and breakfast inn in Stanhope, NJ, fall means sprucing up the inn for the leaf peepers who will be coming to see the splendor of the foliage.
Now's the time to plan a fall getaway. There's plenty to do in the Skylands at this time of year, and an abundance of farms where you can pick your own apples and pumpkins. I've already made an excursion to Alstede Farms in Chester, and I must say my apple/cranberry French toast tastes even more delicious when the apples have been on the trees only a day before.
There are still a lot of farms left in this rural corner of New Jersey, and they all invite visitors to "pick their own"…I've included some of those closest to the inn.
Tranquility Farms
Rte 517
Allamuchy, NJ
Windy Brow Orchards
350 Ridge Rd.
Newton
Donaldson Farms
345 Allen Rd.
Mansfield Twp (Hackettstown), NJ
Oktoberfest is in full swing at the Black Forest Inn, one of New Jersey's last surviving German restaurants. Located a mere five-minute drive from the Inn, Tom and I go there often, and we've never been disappointed.
Come experience fall in the New Jersey Skylands.


Ros
Ros Bruno
Innkeeper
The Whistling Swan Inn
110 Main Street
Stanhope, NJ 07874
973-347-6369
www.whistlingswaninn.com
Check availability