It's true – I'm a shameless celebrity hound. I want to know what they're wearing, who they're marrying/divorcing and where they're resting for all of eternity. So imagine my surprise and delight when the adorable New York City couple who came to the Whistling Swan Inn for a quick getaway in the quiet, bucolic New Jersey Skylands, turned out to be Broadway stars!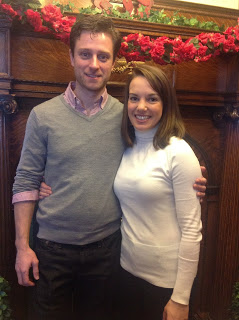 Kevin Massey and Kara Lindsay at the
Whistling Swan Inn
Yes, sitting at my breakfast table were none other than Kara Lindsay, the female lead in the 2012 Tony award-winning musical, Newsies, and her charming fiance, Kevin Massey, who has also appeared on The Great White Way in Memphis and Big River. The couple met several years ago in Minneapolis where they starred in the regional theater production of Little House on the Prairie, as Laura Ingalls and Almanzo Wilder respectively, and they have plans to be married this June.
Although I do my best not to be a rube in the presence of celebrities, I couldn't resist asking Kara and Kevin if they would pose for a picture to be posted on my blog. They could not have been more gracious.
I'm keeping my eye on these two. If the reviews are any indication, they are destined for greatness.
For tickets to Newsies contact:
Nederlander Theatre
208 W. 41st Street
New York City, NY
866-870-2717
Ros
Ros Bruno
Innkeeper
The Whistling Swan Inn
110 Main St.
Stanhope, NJ 07874
973-347-6369
www.whistlingswaninn.com
Check availability