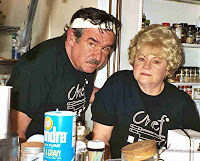 Tom and Diane – ready to work
their kitchen magic
The Whistling Swan Inn in Stanhope, NJ will be partnering with renowned chefs, Tom and Diane Faglon, for a Culinary Weekend getaway to be held on Friday and Saturday, April 5th and 6th. Tom and Diane, who are longtime guests of the Inn, will demonstrate how elegant entertaining can be easy.
The weekend event is part "hands-on" workshops where participants will experience chocolate tasting and wine/cheese pairing and learn how to make one of Tom's famous chocolate confections. A second workshop focuses on creating delightful canapes using phyllo dough led by Chef Diane.
The evening will culminate in a three-course dinner prepared by Tom and Diane in the Inn's own kitchen and served in our dining room.
Tom and Diane are avid gourmets, party planners and award-winning chefs. They've appeared on the Food Network's "Food Fantasy" TV series, and their culinary adventures, recipes and dinner parties have been the subject of several articles in New Jersey newspapers. Most recently, Tom won first prize in the 2012 National Oyster Cook-off (soup category) with his Oyster Royale soup. (recipe)
This weekend is designed for anyone who loves good food, elegantly prepared. It's an opportunity to learn some new cooking tips; Tom and Diane will also be sharing their recipes so you'll be able to replicate the dinner at home and WOW your friends and family with your culinary expertise.
Bring your mother/daughter/partner/girlfriends and get ready for a weekend of food and fun.
Ros
Ros Bruno
Innkeeper
The Whistling Swan Inn
110 Main St.
Stanhope, NJ 07874
973-347-6369
www.whistlingswaninn.com
Check availability