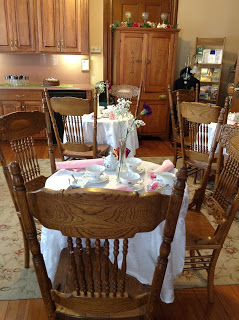 Ever since I was a little girl, which is more years ago than I care to acknowledge, I've always loved a good party. I loved planning them, hosting them, attending them and rehashing them. So it's no surprise that hosting parties at my New Jersey bed and breakfast, the Whistling Swan Inn, is one of my favorite jobs as innkeeper.
We get a lot of requests for bridal and baby shower teas. Inside, the Inn can accommodate a maximum of 35 guests. Out goes the furniture, and the parlor is transformed (or nearly transformed) into an English tearoom. The pictures are from the baby shower tea we had this past weekend.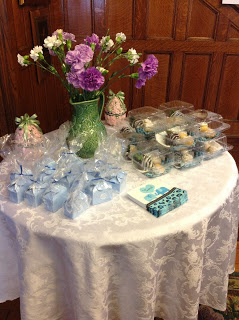 Now that the weather is warming up, we'll have the events on our beautiful wraparound veranda, which can hold up to 60 people. Teas are held from 1:00-4:00 pm and feature a three-course lunch. A sample menu could be buttery cream scones, my famous spinach and cheddar quiche, delectable shrimp and dill sandwiches and a sampling of finger desserts.
Of course getting married or having a baby are not prerequisites for having a lovely tea party at the Inn. Your spring book or garden club meeting is a perfect excuse to get together for some good food served elegantly. The price for our custom teas is $20.95 per person, which includes table settings, linens and waitstaff.
When was the last time you savored a cup of tea in a charming setting with your dearest friends?
Ros
Ros Bruno
Innkeeper
The Whistling Swan Inn
110 Main Street
Stanhope, NJ 07874
973-347-6369
www.whistlingswaninn.com
Check availability