It's event season at the Whistling Swan Inn, my bed and breakfast in the beautiful New Jersey Skylands. We kicked off the round of spring parties with a lovely First Communion party at the end of April. The weather was unseasonably warm, and we were able to serve lunch on the veranda.
The marriage bug seems to be biting overtime this year, with four weddings on the schedule for May and June. Last weekend, Tom and Lisa tied the knot at the Inn. Even the drizzle right when they were scheduled to say "I do" in the garden, did not dampen the festive spirit. Coordinating an event means being fast and flexible, so we quickly set up on the veranda, and the ceremony went off right on time.
Since taking over the Inn, my goal of delivering the best possible experience to my guests has enabled me to meet a variety of local business owners who have become treasured friends. Randi, a very talented florist and owner of Lockwood Farms, designed the flowers. Simple, yet exquisite, they added to the elegant atmosphere of the party.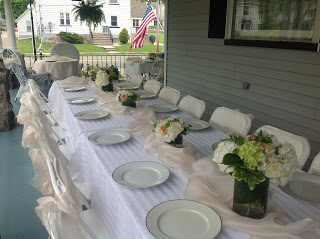 Simple, elegant … the very essence of Spring
Randi's floral masterpiece was rivaled only by the scrumptious cake. Suree, owner and resident artiste of KaliKakes, whipped up a magnificent three-tiered confection of white cake filled with strawberry preserves. She and Randi coordinated efforts so that the fresh flowers topping the cake matched the centerpieces exactly. An experienced pastry chef, Suree provides all the specialty cakes for the Inn. If you're planning a celebratory getaway weekend at the Whistling Swan, consider enhancing your reservation with our Happy Birthday package, and you'll be able to sample a KaliKakes masterpiece.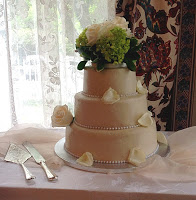 Beautiful AND delicious
The Whistling Swan Inn is a perfect venue for a small, intimate and elegant gathering. To plan your event, call and set up a time to tour the Inn.
Happy Spring!
Ros
Ros Bruno
Innkeeper
The Whistling Swan Inn
110 Main Street
Stanhope, NJ 07874
973-347-6369
www.whistlingswaninn.com
Check availability