It's hard to believe, but autumn is just around the corner. In between running the Whistling Swan Inn, my northern NJ bed and breakfast, I've made the time to get involved in the community. Community involvement is important, and my key focus is the Friends of Waterloo Village Advisory Committee.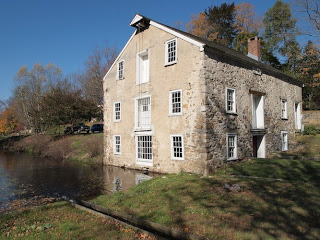 Photo courtesy of John H. Crow
Established in 2010, the Friends of Waterloo Village is a group of local citizens who are dedicated to restoring and preserving the historic district of Waterloo Village. Located a mile from the Inn, Waterloo Village is a restored 19th century canal town and an important part of New Jersey's history.
Our major fundraising event, the third annual Harvest Moon Festival, will be held on Thursday evening, October 10, 2013 from 6:30-9:00 pm. The event will feature food and wine tasting from several local establishments, including Bell's Mansion, Black Forest Inn, Salt and Bea McNally's. Adding to the evening's fun will be an art sale and silent auction. Last year's event was enormously successful, raising nearly $8,000, which has been allocated for the restoration of the Mule Bridge connecting Sussex and Morris Counties.
The Harvest Moon Festival is an evening of good food, camaraderie and the satisfaction of knowing that you contributed to the preservation of an important part of our state's history.
Tickets are on sale now and are limited. Price per ticket: $30 each or 2 for $50. Whistling Swan Inn guests buying a ticket to the Harvest Moon Festival will receive $25 off the regular mid-week room rate.
Hope to see you there this fall.
Ros Bruno
Innkeeper
The Whistling Swan Inn
110 Main St.
Stanhope, NJ 07874
973-347-6369
www.whistlingswaninn.com
Check availability
Follow us on Pinterest