It's no secret that I love to shop. One of my favorite places only 15 minutes away from my bed and breakfast inn, The Whistling Swan, is the historic town of Chester, NJ.
The roots of Chester go back to 1640, when settlers followed the Indian trails that wove through the dense forests of New Jersey. Their territory, originally named "Black River" soon took on the new moniker of "Chester", because Chester, England was the ancestral home of most of the residents.
The town experienced many transitions over the last 200 years and today, boasts more than 80 independent retail shops and eateries, which sell a wide variety of one-of-a-kind merchandise. Last Sunday, Tom and I were able to sneak away from the Inn for an afternoon of browsing.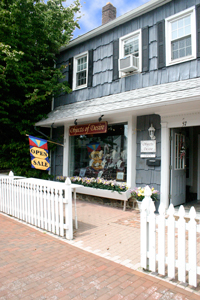 Find that special something in
Objects of Desire
I had a lovely chat with Pat Berg, one of the proprietors of Objects of Desire, an upscale boutique that features everything from handcrafted jewelry to luxury furs that are incredibly affordable. The shop is a veritable treasure trove of original items from award-winning designers.
Almost directly across the street is the Whistling Elk (yes, the coincidence is not lost on me). This little gem is filled with beautiful home furnishings and accessories, most with a French influence. Owner Barbara Collins, is a member of the Interior Design Society and provides interior design consultation to her clients. The item that most intrigued me was the Lampe Berger, a flameless fragrance lamp that disperses scented oil using a heated stone attached to a cotton wick.
Chester is also the site of a fabulous Spring and Fall Craft Show, which is celebrating its 40th anniversary. This year's fall show will be held on September 7-8, 2013 at the Municipal Field.
There's so much to do in this charming historic town. Why not add a trip to Chester, NJ to your fall getaway plans?
Ros
Ros Bruno
Innkeeper
The Whistling Swan Inn
110 Main St.
Stanhope, NJ 07874
973-347-6369
www.whistlingswaninn.com
Check availability
Follow us on Pinterest