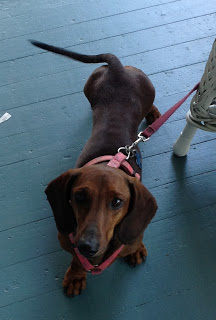 "Don't even think about
a weenie costume for me, Mom"
This morning after my guests checked out I was perusing Yahoo when a picture of dachshunds racing caught my eye. Each year in Cincinnati, Ohio, Oktoberfest kicks off with the "Running of the Weiners".
Doxies are dressed up in hot dog bun costumes and run approximately 75 feet to their owners. I had to laugh. Somehow I cannot imagine my Lucy, AKA the Red Devil, submitting to a weenie bun costume and racing on cue. But apparently, this is a big deal and a highlight of this Oktoberfest celebration. Who knew?
Oktoberfest is also a big deal in northern New Jersey and has kicked off this weekend at the Black Forest Inn, my favorite German restaurant, located a mere mile away from the Whistling Swan Inn.
On Saturdays and Sundays from September 14th through November 3rd, you can enjoy an authentic German Oktoberfest celebration, which features traditional German cuisine, live music and imported German beers. Reservations are required, so if you're a guest at the Swan this fall, and want to get in on the fun, book your table early. The event will have everything but the weenie races. To see that, you'll have to content yourself with the photo below.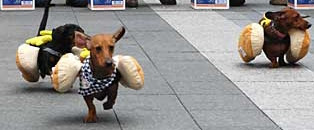 Black Forest Inn
249 U.S. Highway 206 North
Stanhope, NJ 07874
973-347-3344
www.blackforestinn.com
Ros
Ros Bruno
Innkeeper
The Whistling Swan Inn
110 Main St.
Stanhope, NJ 07874
973-347-6369
www.whistlingswaninn.com
Check availability
Follow us on Pinterest