It's not often that Tom and I can take a break from our responsibilities as innkeepers of the Whistling Swan Inn. However, this Labor Day we took the day off to do something fun. Accompanied by Tom's brother, Mike, and sister-in-law, Karen, we headed out to Milford, PA, a small, quaint town, approximately 45 minutes from our bed and breakfast, to tour the Grey Towers Historic Site.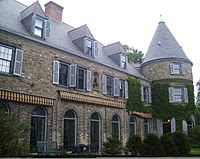 Facade of Grey Towers
Steeped in history, Milford was the ancestral home of Gifford Pinchot, two-time governor of Pennsylvania and the first director of the United States Forest Service. Grey Towers, his summer estate, was built in 1886 and sits on 102 acres overlooking the Delaware River.  Particularly fascinating to me was "The Finger Bowl", an outside dining room consisting of a raised pool surrounded by a flat ledge. Food was passed family style by floating bowls and platters across the water.  For the small sum of $8, visitors can tour both the chateau and the spectacular grounds.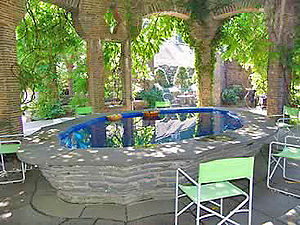 The Finger Bowl – a unique dining experience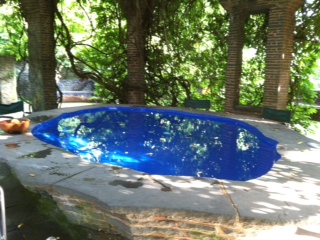 The roast beef is delicious, but the
biscuits are a little soggy.
Before the tour, we did a little shopping and had a great lunch at the Waterwheel Cafe. This is not your usual lunch place – the selections are quite gourmet and feature homemade soups and sandwiches prepared with the freshest ingredients. The dinner menu also looked wonderful, featuring some interesting entrees such as Cassolette de Coquille St. Jacques and Crispy Hazelnut Pork Chops.
Milford is also somewhat famous for its celebration of independent films, under-seen classics, plus silent and historical films originally shot in the area. The Black Bear Film Festival will take place on October 18, 19, 20, 2013. 
So, come on down to Stanhope, NJ – relax at one historic mansion, tour another, eat some great food and catch some flicks.
Grey Towers Heritage Association
570-296-0630
Waterwheel Cafe
150 Water St.
Milford, PA
570-296-2383


Ros
Ros Bruno
Innkeeper
The Whistling Swan Inn
110 Main St.
Stanhope, NJ 07874
973-347-6369
www.whistlingswaninn.com
Check availability
Follow us on Pinterest