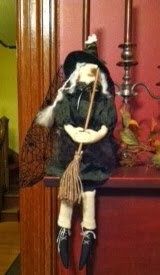 It's creepy and it's kooky…mysterious and spooky…it's Halloween in the New Jersey Skylands. Yes, it's hard to believe the season of ghosts and goblins is upon us. The air up here in Sussex County has turned crisp, the leaves need almost daily blowing and I've bought my candy for the trick or treaters that are sure to descend. The Inn is all decked out for the holiday, and my sassy little witch friends are perched on the mantels.
In between decorating, baking pumpkin bread and trying to exercise some self-control with so much candy around, I've been checking out some of the activities in and around the Whistling Swan Inn. Once again, Corrado's Farm in Hackettstown will have their "Hayride of Horrors". While I haven't participated in this, I have it on good authority that the people who work on the hayride are experts at scaring the bejesus out of you.
Pricing for 2013
Haunted Hayride – $14.00
Haunted House – $14.00
Corn Maze – $6.00
The General Admission combo ticket ($30) gets you into all the attractions.
Corrado's Farm
671 Mt. Bethel Rd.
Hackettstown, NJ 07840
973-942-4448 or 908-637-4644
Alstede Farm's Harvest Moon Hayride and Nighttime Corn Maze is another fun evening. Be sure to bring your flashlights for pumpkin picking. Admission fee is $17.95. While you're there, be sure to pick up some fresh homemade apple cider. It's the best!

Alstede Farms
84 Route 513
Chester, NJ
973-879-7189
www.alstedefarms.com
GPS Address:
1 Chesterfield Drive
Chester, NJ
… so get your witches shawl on for the best Halloween ever.
Ros
Ros Bruno
Innkeeper
The Whistling Swan Inn
110 Main St.
Stanhope, NJ 07874
973-347-6369
www.whistlingswaninn.com
Check availability
Follow us on Pinterest
Follow us on Twitter