Several months ago, I wrote about gluten intolerance being on the upturn and published Tom's popular gluten-free potato-crust frittata. I want to be sure that guests coming to the Whistling Swan Inn will be able to enjoy the breakfast buffet, so I continue to research recipes that are not only gluten-free, but delicious.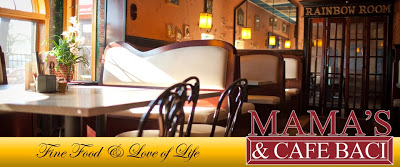 Still, there's always the dilemma of where to send people with gluten sensitivity for lunch or dinner. For people with severe gluten intolerance or full blown celiac disease, cross-contamination is always a big concern, because even a stray bread crumb can set off a chain of events resulting in dire illness.
This weekend I discovered Mama's Cafe Baci, an Italian restaurant in Hackettstown. Just a short drive from the Inn, Mama's not only serves up an exquisite gluten-free menu, but in fact, owner, Tom Schiano, has invested considerable funds to retrofit his kitchen with separate prep areas and equipment to prevent cross-contamination. For the full story, click on the NJ Monthly link.
For a fine Italian dinner (gluten intolerant, or not), visit Mama's Cafe Baci.
260 Mountain Ave.,
Hackettstown, NJ 07840
908-852-2820
Sun-Thurs: 11:00 am to 11:30 pm
Fri-Sat.: 11:00 am to 12:30 am
Ros Bruno
Innkeeper
The Whistling Swan Inn
110 Main St.
Stanhope, NJ 07874
973-347-6369
www.whistlingswaninn.com
Check availability
Follow us on Pinterest
Follow us on Twitter