Okay, so there's still snow on the ground. However, I'm optimistic that warm weather is just around the corner. We've turned our clocks ahead, which has always been the harbinger of Spring for me.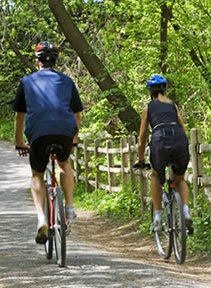 The Whistling Swan Inn is running a special during April and May for all you cycling enthusiasts. We are very close to the Sussex Branch Trail, which is an old preserved rail bed. Let it be said that I have not ridden this trail, nor do I intend to, but Tom is an avid cyclist, and I have it on his authority that this is one of the best in the state of New Jersey. 
The trail takes you through 21 miles of changing scenery. You'll go through forests, farmland and small towns in this bucolic corner of the New Jersey Skylands. You'll pass through rock cuts, woods, fields and past the pristine Cranberry Lake. There's wildlife along the way; keep on the lookout for beaver, mink, deer, muskrat, fox and otter. There's nothing more interesting than seeing animals frolicking in their natural habitats.
Now for the special … with any two-night stay in April or May, we will provide you with a complimentary loaner bike (or you can bring your own if you want), a customized bike trail map and a delectable picnic lunch.
Got cabin fever after this horrible winter? Oil up your bike, get out that helmet and come to the Whistling Swan Inn this Spring for some fun and exercise.
Ros Bruno
Innkeeper
The Whistling Swan Inn
110 Main St.
Stanhope, NJ 07874
973-347-6369
www.whistlingswaninn.com
Check availability
Follow us on Pinterest
Follow us on Twitter