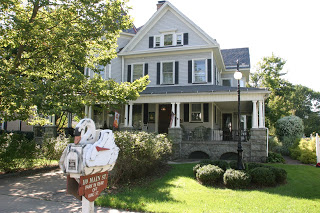 Well, dear readers, February marks the three-month milestone of our new adventure, owning the Whistling Swan Inn. Between making sure our breakfasts are delectable, our rooms pristine and our guests comfortable, we're slowly getting to know the area we now call home. The inn is located in Stanhope, NJ, a charming village in Sussex County, which is in the northwest part of the state known as the Skylands region.
The Skylands boasts some of the
best hiking and biking trails
in New Jersey. Not being the outdoorsy type myself, this is somewhat lost on me, but Tom, an avid cyclist, is in, as they say, "hog heaven". Apparently, I'm in the minority, because many of our guests love walking over to the incline plane to hike the path along the Morris Canal. When the warm weather comes, I expect we'll see a lot more hikers and bikers at the Whistling Swan Inn.
Generally, when time permits, I stick to browsing through the Blue Heron Antique Shop as well as the myriad of other stores in and around town. You never know what treasures you'll find (I recently picked up a beautiful set of hand-painted Tuscan wine glasses). An added advantage is that I don't have to bundle up.
Although Main Street is short, it's an ideal place to walk. There are sidewalks up and down its length, and the traffic is light. I like not having to get into my car to go up to the deli. I've met all the women at the Stanhope Borough Hall, and also have had the opportunity to meet some members of our local police force without having to show them my license and registration.
… and so the adventures begin… join us
Ros
Ros Bruno
Innkeeper
The Whistling Swan Inn
110 Main Street
Stanhope, NJ 07874