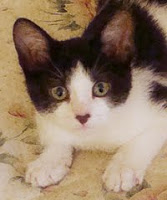 This is the garage sale to end all garage sales, with over 200,000 – yes, I said 200,000 items. Clothing, furniture, tools, housewares, china, silver, crystal and jewelry will be on sale from 9:00-5:00 pm. B.A.R.K.S., a non-profit organization, works in association with the Byram Township Pound and has been helping stray and abandoned animals since 1973. All proceeds from the sale will benefit homeless animals like the little beauty in the photo.
With list in hand…I'll be there as soon as the last breakfast dish is put away.
… and so the adventures continue…join us.
Ros
Ros Bruno
Innkeeper
The Whistling Swan Inn
110 Main Street
Stanhope, NJ 07874
973-347-6369