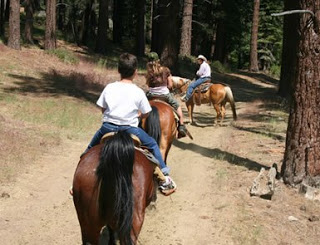 Since buying the
Whistling Swan Inn
in Stanhope, NJ, I've made some new friends, albeit some of them only over the telephone. My friend, Christine, manages the family-owned
Spring Valley Equestrian Center
, which is located in Newton, NJ, a mere 13 miles from the Inn.
The Equestrian Center offers
horseback riding
along the Paulinskill Valley Trail, which is a rail trail along the Paulins Kill River. The sixth longest trail in the state, the Paulinskill Valley Trail boasts 27 miles of some of the most breathtaking scenery in Sussex County, New Jersey.
Trail rides are given by reservation only. Please call 973-383-3766 in advance to schedule your ride. Novice riders need not be concerned, because instructions on the proper use of how to handle a horse both in the ring and on the trail are provided by the Center's instructor guides. The fee for a one-hour ride is $30 per person.
It's been a long time since I've ridden a horse. Well, OK, I've only been on a horse once, back in my early 20's, which is more years ago than I care to acknowledge. Despite being jounced around so much that I ached for 5 days, I never lost my awe of these majestic beasts, and it's clear why horseback riding is call the "sport of kings". Maybe this spring, I'll call Christine and try it again.
… and so the adventures continue… join us.
Ros
Ros Bruno
Owner/Innkeeper
The Whistling Swan Inn
110 Main Street
Stanhope, NJ 07874
973-347-6369