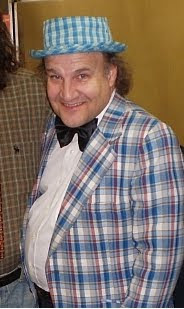 On Sunday, April 1, 2012, Uncle Floyd will appear on the Roadhouse Stage at the
Stanhope House
, which is a short three-block walk from
The Whistling Swan Inn
. Showtime is at 7:00 pm and tickets are $10 per person.
I was introduced to
Uncle Floyd
more than 30 years ago when I first met my brother-in-law, Mike, who along with his friends, was a big-time fan of his show, which aired on NJ public television from 1974 through 1998. Called the "comedic king of the Tin Pan Alley piano", this
Glen Rock, New Jersey
native gained a devoted following with his slapstick comedy, piano music and antics of his puppet sidekick, Oogie.
It's amazing what can happen in 30+ years. Although no longer on the airwaves, Uncle Floyd performs almost every night of the year and can still draw a decent crowd, particularly in
Atlantic City.
As for my brother-in-law, he's a big-time CPA who still gets a kick out of Uncle Floyd's humor. Who knew?
…and so the adventures continue…join us
Ros
Ros Bruno
Innkeeper
The Whistling Swan Inn
110 Main Street
Stanhope, NJ 07874
973-347-6369