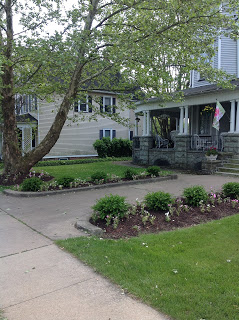 English boxwoods
flank the front walk
Spring has finally come to the Whistling Swan Inn, in Stanhope, NJ. Mother Nature teased us in March with balmy, 70-degree days; April brought a cold snap, but now I believe spring is here to stay. The garden foliage is abundantly green, with the tulips providing bright splashes of color.
Over the last two weeks, we've been sprucing up the landscaping in preparation for several outdoor events. The ancient rose bushes in the front have been replaced by English boxwoods, which are my all-time favorites. Dispersed among these beauties are pink and white impatiens.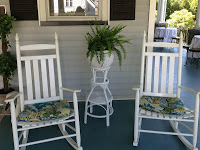 The fine weather in the Skylands region of the state has brought our guests out of their rooms and onto the newly painted veranda. On Mother's Day, I had some downtime, and spent a delightful hour chatting with simply charming guests who were kind enough to show me their wedding album.
Tucked into a corner of the veranda is a comfy, two-person hammock. The quiet of this little northern NJ village was most conducive to an afternoon nap. While I couldn't spare the time for it, I caught my daughter, Nikki, taking a little siesta.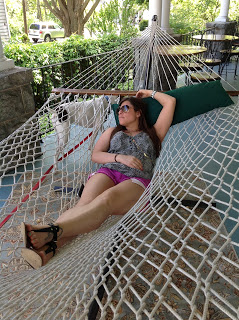 Sleeping Beauty
… and so the adventures continue … join us.
Ros
Ros Bruno
Innkeeper
The Whistling Swan Inn
110 Main Street
Stanhope, NJ 07874
973-347-6369
www.whistlingswaninn.com
Check availability