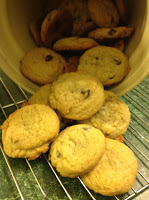 Fresh-from-the-oven cookies
When I bought the Whistling Swan bed and breakfast inn last November, I inherited a plethora of tried-and-true recipes that guests consistently rave about. While I've tweaked existing recipes and added some of my own favorites to the menu, one treat I will not tamper with are the chocolate chip cookies. These delectable, bite-sized morsels melt in your mouth, and more than one return guest has asked if we still have the cookies, practically before saying hello.
Whistling Swan Chocolate Chip Cookies
Ingredients:
1 cup of butter
1/2 cup white sugar
1 cup packed brown sugar
1 tsp. vanilla extract
2 eggs
2 1/2 cups all-purpose flour
1 tsp salt
1 tsp baking soda
2 cups semi-sweet chocolate morsels
Preheat oven to 350 degrees F. In a large bowl cream butter and sugars together until smooth. Beat in vanilla and eggs one at a time. Combine the flour, baking soda and salt. Stir into the sugar mixture. Finally, mix in the chocolate chips. Drop tablespoonsful onto ungreased cookie sheets (actually, I like to use those SilPat sheets to minimize clean-up). Bake for 12-14 minutes until edges are golden. Cool on wire racks.
In case anyone was wondering, I make 12 dozen cookies per week.
… and so the adventures continue … join us.


Ros
Ros Bruno
Innkeeper
The Whistling Swan Inn
110 Main Street
Stanhope, NJ 07874
973-347-6369
www.whistlingswaninn.com