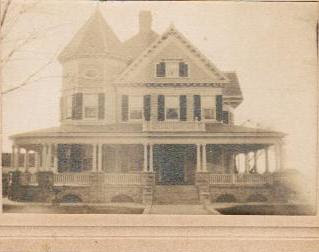 The Whistling Swan Inn, circa 1920
The other day I was trying to sort out the storage closet in my office when I discovered a veritable treasure trove of old photos of the wonderful 1905 Victorian mansion that is now the Whistling Swan Inn. Needless to say, history buff that I am, the pictures piqued my interest, and all thoughts about cleaning the closet were abandoned.
Because many of my guests share my love of both old houses and history, I'm often asked about the past lives of the house at 110 Main Street in Stanhope, NJ. Although the current building was built by Justice of the Peace, Daniel Best, for his wife, Sarah, the property formerly was occupied by a small one and one-half story frame house whose builder was unknown.
In the late 1800's, Stanhope's tannery owner and operator, Cornelius Cottrell acquired the small house and surrounding land, which was kept in his family through 1896 when it was purchased by Daniel Best. The land was subdivided, and Brian, my next door neighbor, tells me his house was originally owned by Best's brother, William.
The house stayed in the Best family until 1941, when it was sold to the Salmon family who owned it until 1966. Here's where it gets really interesting. Most of the townspeople are longtime residents who knew the Salmon kids well. Apparently, one of the favorite neighborhood activities was playing ice hockey on the flooded and frozen side yard that is now my garden. And downstairs in the basement, several Salmon kids did the typical kid thing and wrote their names in wet cement used to patch the cellar floor.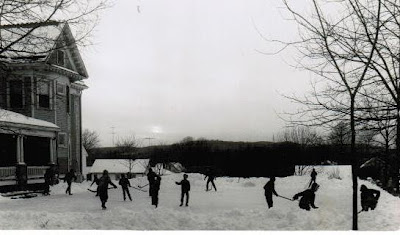 Young hockey players frozen in time, circa 1960
During the next 20 years, the house was owned by several other families. Given numerous attempts at "modernization", the best features of the house were compromised, and unfortunately this architectural and historical treasure lay vacant for several years.
In 1985, the house was acquired by Paula Williams and her late husband, Joe. Retired from AT&T, the couple lovingly restored the building to its prior Victorian grandeur, and the Whistling Swan Inn, the first New Jersey bed and breakfast in the state's Skylands region, was born.
Paula and Joe owned and operated the Inn until 2000. Liz Armstrong purchased it, and transformed it from a "business hotel" to a property that now attracts a wide demographic of guests. Tom and I have owned the Inn since November of 2011, and we're having a ball operating it.
So there it is…the Whistling Swan Inn then and now.