On Thursday, October 11, 2012, the second annual Waterloo Harvest Moon Festival, an Art Sale and Auction, will be held from 6:30-9:30 pm at the newly restored Waterloo Village Meeting House. The event will feature food, wine and ale sampling from fine local restaurants including: Adam Todd Caterers, Black Forest Inn and the Prickly Pear.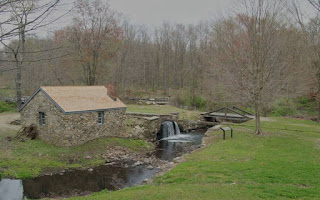 Blacksmith shop with recently restored roof
All proceeds of the event will benefit the Waterloo Restoration Project. The Harvest Moon Festival is sponsored by the Friends of Waterloo Village, a small, but committed cadre of citizens dedicated to securing funds for the restoration and sustainability of one of the Skylands region's historic treasures.
Autumn is a glorious time of year in the New Jersey Skylands. Why not, when planning your fall getaway, consider a long weekend at the Whistling Swan Inn with an evening spent at the Harvest Moon Festival? Tickets to the event are $35 per person or two for $60. For ticket information, call 973-347-1045 or email waterlooharvestmoon@gmail.com.
Waterloo Village is a restored 19th century canal town in Stanhope. In its heyday it was approximately the half-way point in the 102-mile trip along the Morris Canal, which ran from Jersey City to Phillipsburg, New Jersey. It possessed all the accommodations necessary to service the needs of a canal operation, including an inn, general store, church, blacksmith shop and a watermill.
…. everyday is an adventure


Ros
Ros Bruno
Innkeeper
The Whistling Swan Inn
110 Main Street
Stanhope, NJ 07874
973-347-6369
www.whistlingswaninn.com
Check availability