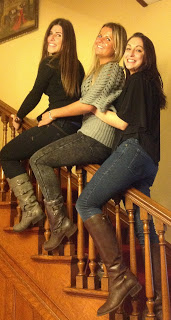 Top to bottom:
Nikki, Sandy and Emily
Last Sunday, we had a Christmas open house at the Whistling Swan Inn, my Victorian bed and breakfast in Stanhope, NJ. It was all about good food, old and new friends, family and even a couple of stay-over guests joined in the fun. Every time there's an event at the Inn, I swear I'm going to take pictures for the blog or my Facebook page. And every time, I'm too busy prepping, greeting guests and making sure everyone is well-fed, so the picture taking goes by the wayside.
This time, I was able to snap a couple of photos before things got underway. Nothing quite beats the enthusiasm of youth, and the faces on these three beauties sum up the joy of the holiday season!
Physically, I don't think I could get my leg up over that banister, but mentally, girls, I'm sliding right behind you.
Ros
Ros Bruno
Innkeeper
The Whistling Swan Inn
110 Main Street
Stanhope, NJ 07874
973-347-6369
www.whistlingswaninn.com
Check availability