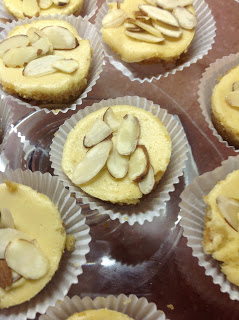 Mini Brown Sugar Cheesecakes
Christmastime in my family always meant a lot of baking. My mother, grandmother and I would set aside a whole day and whip up all the cookies and cakes traditional to the season and to our Italian culture. As the innkeeper of the Whistling Swan Inn, I'm always looking for new treats to serve my bed and breakfast guests.
A few weeks ago my friend, Joanne, brought over her recipe for Mini Brown Sugar Cheesecakes. They were absolutely delicious…hope you will try them and enjoy.
Ingredients
1 1/4 C graham cracker crumbs (about 1 sleeve of four-section graham crackers from a 14.4 oz box)
3 T granulated sugar
1/4 tsp salt
5 T, plus 1 tsp. unsalted butter, melted
2 (8 oz.) pkgs. cream cheese softened
2 large eggs
2 T fresh lemon juice (about 1 lemon)
1 T lemon zest (about 1 lemon)
1 T vanilla extract
1 tsp. ground ginger
1 C light brown sugar
1/2 candied ginger or slivered almonds
Preheat oven to 350 degrees F. In a small bowl, combine
graham crackers crumbs, granulated sugar and salt. Add butter and stir until
combined. Spoon about 1 tablespoon mixture into each cup of a buttered 24-cup
mini muffin pan; press down to form a sold bottom layer. Bake for about 5
minutes. Transfer pan to a wire rack to cool. Reduce oven to 300 degrees F.
With an
electric mixer, beat cream cheese until light and fluffy, about 2 minutes. With
beater running, add eggs 1 at a time. Add lemon juice and zest, vanilla, ground
ginger and brown sugar and beat until combined. Divide filling equally among
muffin cups and bake until firm, approximately 15-20 minutes. Transfer to to a
wire rack and let cool completely. Refrigerate until set for at least 4 hours
or overnight.
Gently run a knife around the cheesecakes' edges to loosen them
and invert pan to release the cakes. Transfer to a cake stand and garnish with
candied ginger or slivered almonds.
It was a good thing I took this picture when I did, because they didn't last long.
Happy baking.
Ros
Ros Bruno
Innkeeper
The Whistling Swan Inn
110 Main Street
Stanhope, NJ 07874
973-347-6369
www.whistlingswaninn.com
Check availability