I love food. Yes, it's true, and I make no secret of it. A guest breakfast favorite at the Whistling Swan Inn is blueberry muffins. The following recipe is featured in my cookbook, Innside Breakfast. These delectable goodies can be made all year long using either fresh or frozen blueberries. One tip though. Invest in pure vanilla extract. It makes all the difference.
Blueberry Cream Muffins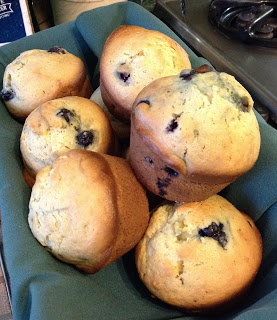 4 eggs
2 cups white sugar
1 cup vegetable oil
1 tsp. vanilla extract
4 cups all-purpose flour
1 tsp. salt
1 tsp. baking soda
2 cups sour cream
1 cup blueberries
Preheat oven to 400 degrees F. Grease 24 muffin cups or line with paper liners. In large bowl beat eggs, gradually adding sugar while beating. Continue beating while slowly pouring in oil. Stir in vanilla. In a separate bowl, stir together flour, salt and baking soda. Stir dry ingredients into egg mixture alternately with sour cream, beginning and ending with dry ingredients. Gently fold in blueberries. Scoop batter into prepared muffin tins. Bake for 20 minutes, or until done.
I like to make these in the large muffin tins.
Ros
Ros Bruno
Innkeeper
The Whistling Swan Inn
110 Main St.
Stanhope, NJ 07874
973-347-6369
www.whistlingswaninn.com
Check availability