The Whistling Swan Inn is a perfect venue for an intimate wedding reception that is customized to each bridal couple's specific needs and budget. When Bob and Lynn came to my Sussex County bed and breakfast in January to book their June 29th wedding, they had a very precise vision for their big day. They wanted their wedding weekend to be a joyous mingling of old friends and cherished family celebrating their commitment with good food, exquisite wines and lively music in a relaxed atmosphere.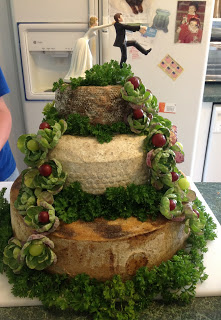 Cheese from Valley Shepherd Creamery
Design by Joanne and Courtney
A wine importer, Bob is quite a gourmand and, so with a nod to his Italian heritage, appetizers included a cheese and proscuitto station. The locally made cheeses came from Valley Shepherd Creamery, a family-owned farm in Long Valley, NJ. Bob challenged our creativity, because he wanted the three wheels of cheese to resemble a wedding cake. (They even had a humorous cake topper for it). Armed with curly parsley, Brussels sprouts and red and white grapes, my helpers Joanne and Courtney fashioned the work of art represented in the photo at right. I offered encouragement and a few comments during the process, but even I know when to get out of the way of creative genius.
Ros Bruno
Innkeeper
The Whistling Swan Inn
110 Main St.
Stanhope, NJ 07874
973-347-6369
www.whistlingswaninn.com