The Victorian Era has fascinated me ever since I read Charlotte Bronte's Jane Eyre in high school. By definition, this is the period of British history between 1837 and 1901, the years of Queen Victoria's reign.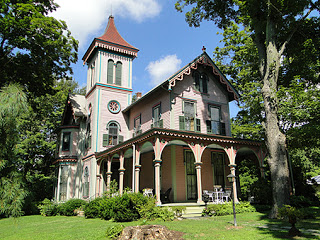 This Italianate villa, located at 430 Green Lane,
is one of the houses featured on this year's tour
Thirty minutes away from the Whistling Swan Inn, my bed and breakfast in Stanhope, NJ, is Belvidere, a town steeped in Victorian culture. Each year, the town celebrates its Victorian heritage by holding a weekend event, Victorian Days.
This year's event will be held on Saturday, September 7, 2013 from 9:00 am to 6:00 pm and on Sunday, September 8, 2013 from 11:30 am to 5:00 pm. The festivities will include house tours, garden parties, craft and food vendors, an antique car show and vintage fashion show. Victorian era demonstrations and musicians playing period selections will also be on hand to add to the fun.
Tickets are required for some events and may be purchased online. http://www.victorianbelvidere.com/housetour_form.htm
Ros Bruno
Innkeeper
The Whistling Swan Inn
110 Main St.
Stanhope, NJ 07874
973-347-6369
www.whistlingswaninn.com
Check availability
Follow us on Pinterest