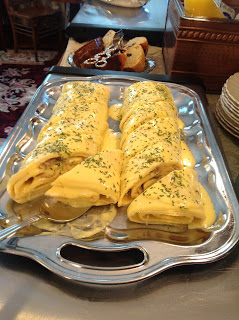 Easy and elegant – always a hit
This is an easy, elegant breakfast or brunch dish. It's a Whistling Swan Inn guest favorite, and I've experimented with different fillings to add a little variety to the buffet.
Ingredients:
6 eggs
1 C milk
1/2 C all purpose flour
1/2 tsp salt
1/4 tsp ground black pepper
1 C shredded cheddar cheese
Preheat oven to 350 degrees. Lightly grease (or spray with Pam) a 9 x 13 baking pan. In the blender combine eggs, flour, salt, pepper and milk. Cover and process until smooth. Pour into prepared pan. Bake in preheated oven until set, approximately 15 minutes.
Sprinkle with cheese and pop back in the oven for 3 minutes until cheese melts. Carefully loosen edges of omelet from pan. Starting from the short end, carefully roll up omelet. Transfer seam side down to serving plate. Garnish with Hollandaise sauce and either fresh chives or tarragon. Slice into 6 equal size pieces.
Variations:
1 C chopped spinach – spread on omelet and sprinkle with cheese
Saute chopped broccoli, mushrooms and onions – spread on omelet and sprinkle with cheese
Instead of plain cheddar cheese, try the four cheese Mexican blend for a little spice
Tips:
It helps to rotate the pan halfway through the cooking process
This can go from "done" to "burned" very quickly, so I always watch it carefully.
For all you cooks out there who may put your own spin on this recipe…let me know how it goes.
Ros
Ros Bruno
Innkeeper
The Whistling Swan Inn
110 Main St.
Stanhope, NJ 07874
973-347-6369
www.whistlingswaninn.com
Check availability
Follow us on Pinterest