When I was a kid growing up in rural central New Jersey, a lot of my friends had ponds, creeks, rills or streams in or around their yards. My ritzier pals had fountains or waterfalls as part of the built-in swimming pool. We called them "ponds", "creeks" or "fountains". Today, they're called "water features". A water feature…kind of like calling raw hamburger steak tartare.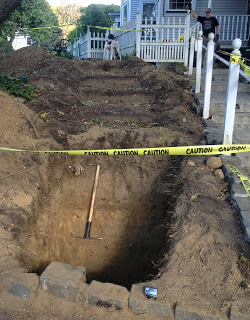 Step 1 of the new water garden
But okay, I'll go with the flow (pun intended). At the Whistling Swan Inn, my New Jersey bed and breakfast, there is a hill in the back where nothing grows. So, we're putting in a water feature, which consists of a pond at the top corner of our English garden and terraced rocks with water cascading down them.
Once completed, we plan to have a cozy sitting area where guests can relax with morning coffee or an evening bottle of wine set against a backdrop of burbling water. We might even have fish! However, there is much work to be done before we buy those water plants.
The digging, is done. Tom spent an entire day with a mini excavator, rented from my pal, Eric, owner of Sussex County Rental Center. The photo at right is not a crime scene, despite the tape and six-feet deep hole at the bottom….it's Step 1 of what will be a beautiful enhancement to the Inn's landscape, designed for the enjoyment of our guests.
Check back, as I will be posting updates as each step of the process is completed.
Ros
Ros Bruno
Innkeeper
The Whistling Swan Inn
110 Main St.
Stanhope, NJ 07874
973-347-6369
www.whistlingswaninn.com
Check availability
Follow us on Pinterest
Follow us on Twitter