What comes to mind when you think of fall? Do you imagine falling leaves, crisp cool days, warm comfort food, and fun festivals? If so, then start planning your visit to Sussex County, NJ this fall! Plan your fall getaway at the Whistling Swan Inn, where modern luxury meets Victorian elegance. Our comfortable and relaxing inn will provide you with a sumptuous breakfast to start your day, a luxurious guest room to say good night, and plenty of amenities for a delightful stay.
The 34th Annual Oktoberfest At Mountain Creek Resort
Saturday, September 22 from 11am – 9pm
Sunday, September 23 from 11am – 8pm
The much-anticipated Oktoberfest at Mountain Creek returns for its 34th year, providing an abundance of delicious eats, cold brews, toe-tapping music, and fun activities for young and old alike. Enjoy a variety of authentic German and festival foods, such as bratwurst, knockwurst, sauerbraten sandwiches, giant German pretzels and chocolate cake, rotisserie chicken, BBQ Pulled Pork Sandwiches, Jumbo Hot Dogs, and several assorted desserts. Wash it all down from over 100 varieties of beer. Entertainment and music will be happening throughout the two-day festival. You will enjoy many live bands, including German music. Capture some memories in the photo booth. If you love a friendly competition, you may want to try the lumberjack contest, hay bale toss, wife carry relay, or pie eating contest. Get up close and personal with animals at the petting zoo or on a pony ride. There will even be a Clydesdale horse performance. And be sure to stick around Sunday for the fireworks show at 7:10pm.
Location:
Mountain Creek Resort
200 Route 94
Vernon Township, NJ 07462
Waterloo Village Food Truck and Music Festival
Sunday, October 13 from 11am – 6pm
Come enjoy the outdoors this fall at historic Waterloo Village's Annual Food Truck and Music Festival. Pack some blankets, chairs, pop-up tents and your furry friend (leash required) to sit back and enjoy quality food from the best food trucks in New Jersey along with domestic and craft beers, red or white sangria, margaritas and mojitos. Entertainment includes music from local bands and musicians, and arts and crafts by local artisans and vendors. Admission is $5
Location:
Waterloo Village Concert Field
2 Kinney Rd
Hackettstown, NJ 07840
Leaf Peeping in Sussex County
Leaf peeping season in Sussex County usually begins in early October and lasts through the beginning of November. Jump in the car and spend the day driving around the county for stunning views of this season's fall foliage. The county's 539 square miles of ridges and valleys show off a variety of colorful deciduous trees amidst deep green conifers. During the beautiful and relaxing drive down country roads you will also encounter the county's rural charm: historic dairy barns, farms dotted with animals grazing in the fields, and white church steeples. For an incredible vantage point, head north on US 206 and US 23 up to High Point State Park. At 1,803' above sea level, you will be in awe at the panoramic views of lush rolling farmland and forests in three states as well as the sparkling Delaware River.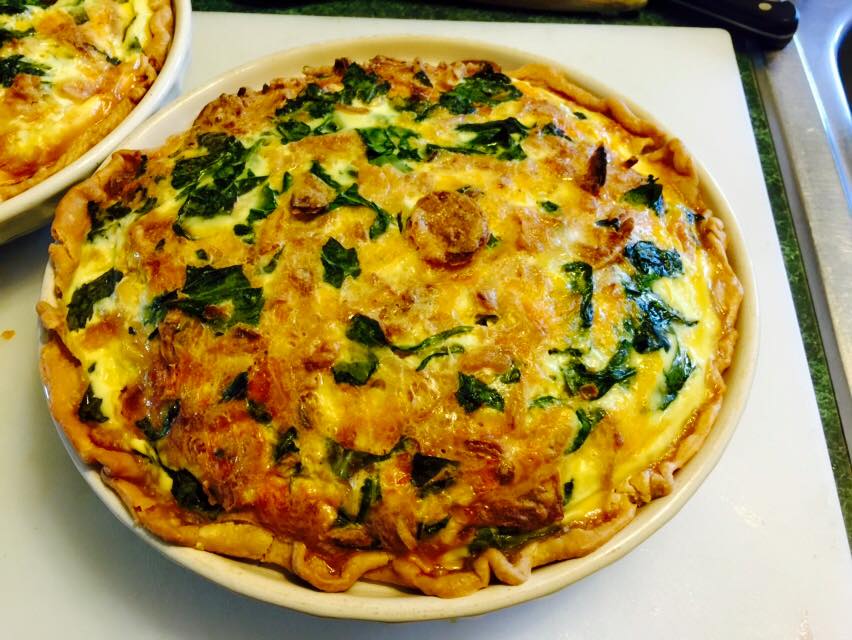 Warm Comfort Food Each Morning
During your stay with us, you will wake each morning to a full breakfast buffet in the dining room. Stroll down anytime between 8:30-10:00am on weekends (8:00-9:30am during the week), and help yourself to a delicious and savory entrée made with fresh local ingredients, such as our spinach cheddar quiche or eggs Benedict made to order. If you have a sweet tooth, then you are sure to satisfy it with our lemon pancakes or crispy orange waffles. Sides may include roasted rosemary potatoes and Canadian bacon. Of course, hot coffee and tea, juice, fresh fruit, homemade granola, yogurt, and baked goodies are available each day too. Need we say more? Book your stay today for a memorable fall getaway!